A Canadian pastor who was arrested and imprisoned for holding a prayer service for the convoy of truckers who demonstrated at an Alberta border crossing last month remains in jail.
Pastor Artur Pawlowski has been in prison since February 9. He was denied bail on Feb. 19 and is currently being held in solitary confinement at the Calgary Remand Center, his son Nathan Pawlowski told The Epoch Times.
"It's unbelievably cruel what they're doing to my dad," Pawlowski said.
Pastor "Art" has made international news in the past for multiple arrests for refusing to comply with COVID-19 mask mandates and speaking out against vaccine mandates.
A 2021 video of him standing up to a group of police and health officials who entered his church during a service he was giving went viral.
Pawlowski was last arrested Feb. 8 at his home in Calgary, a day after he gave a speech to protesting truckers at the Coutts border crossing in Alberta, telling them to "hold the line."
At a Feb. 19 bail hearing, a Canadian prosecutor argued that Pawlowski's Feb. 7 speech incited truckers, similar to allegations made against former President Donald Trump about that speech. that preceded the so-called January 6 insurrection on the US Capitol.
In the Pawlowski case, Crown Attorney Steven Johnston also argued that his speech "caused enormous economic damage to the local, provincial and national economy and considerable damage to the community of ordinary Canadians."
Provincial Court Judge Erin Olsen agreed and denied Pawlowski's bail.
Pawlowski was charged with "interference with critical infrastructure" and "complicity in mischief" under Alberta's Critical Infrastructure Defense Act.
His attorney, Sarah Miller, said he was the first citizen to be charged under Alberta's Critical Infrastructure Defense Act.
The arrests may be a harbinger for the US convoy of truckers who traveled to the Washington DC area to protest COVID-19 mandates.
City police last week told truckers they would soon start arresting them for obstructing traffic.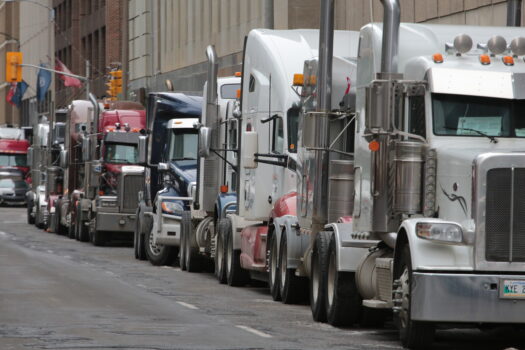 As the People's Convoy, the truckers have been touring the US Capitol since arriving in the area the first week of March.
Days after the threat, a convoy organizer publicly said the group would reclaim a two-block section of town known as Black Lives Matter Plaza.
As part of the plan, Mike Landis promised the group would remove the giant yellow "Black lives Matter" lettering that spans 16th Street.
So far, neither this action nor any arrests have taken place. Like Canadian truckers, U.S. truckers are protesting government-ordered COVID-19 mandates and other government directives seen by groups as an overreach and violation of civil rights.
Besides Pawlowski, several Freedom Convoy organizers have also been arrested and held without bail until recently for their comments.
Both Tamara Lich and Chris Barber were released on the condition that they leave Ottawa and the entire province of Ontario.
Pat King, a vocal protester who was jailed for his comments, remains in jail. His bail was denied on February 25.
When Pawlowski was released in 2021 after his arrest, Court of Queen's Bench Judge Adam Germain told him he was "on the wrong side of science" and ordered him to preach the government's belief that masks and warrants are beneficial against COVID-19.